Across Australia on Bicycle - one HUGE page
Journal Entries
1997-11-11 Renens -> Zürich -> Bangkok
Départ en train de Renens, arrivée à Genève, check-in jusqu'à Bangkok, GE-ZH 30 min. Peanuts et une boisson non-alcoolisée. ZH-Bangkok, apéro vodka tomates / vodka orange, vin blanc avec poisson, on n'a pas pu choisir le menu. Film le Jaguar avec le type du Grand Bleu, Jurasssik Park et une croisière en bateau. Petit déjeuner avec omelett, saucisse, röstis. Pas dormi, arrivée vers 6 h. 30, vol de 10 h. 30.
1997-11-12 One day in Bangkok
Départ pour la ville vers 9 h., après un IcedCoffee et une glace pour Erik, c'est son anniversaire. Taxi 400 bahts (cher? sp?), repos dans un parc, il fait chaud et humide, la ville pue, vu un temple + un autre, il y a tjrs des gens à touk-touk et qui nous offre de l'eau et le Boudha. Erik ne se sent pas bien, il a envie de gerber.
Vu la rivière, plutôt le fleuve. Dîner au bord de l'eau, soupe à la noix de coco (?) et crevettes + bière, Erik un ananas et de l'eau.
Pineapple served with small dish of salt. To balance electrolytes? In any case, I felt a bit better afterwards, but not good enough.
Vue la rue Kao Sarn, rien acheté, pas faits de cartes étudiants. Denouveau, prix un touk-touk qui nous a amené à la gare, 10 bahts.
Would have only been 40 bahts, if we went and saw the Buddhas and the Thai centre with the driver, but I had absolutely no interest in that since I am an un-cultured barbarian. He drove like a crazy, but it was fun. The train to the airport was only 5 bahts each. Passed the slums, (sacrés bidonvilles). It was interesting for me since I had never seen poverty like that before. Far more interesting than statues of Buddha, anyway. Note: there are no beggars in Bangkok! Fear of the cops?
Restés à l'aéroport de 15 h. à 23 h...
1997-11-13 Bangkok -> Perth
Dormi partout, parterre, sur des sièges, mangé des pizzas Hut. Pizza was a bad idea for me. Embarquement et vol à Perth, 6h30. Vodka-tomates, vin rouge, poulet, 2 films regardé sans le son. Pas réussi à dormir, malgré la fatigue, vol sans fumée...
Too much sun, not enough rest. The plane taxiing was enough to make me toss my cookies in a spectacular manner. I should have gotten a photograph of that, just for the sake of completeness. I will NEVER AGAIN believe Christiane when she says that Coca Cola (code-name for malted battery acid) can cure an upset stomach. She thought it was hilarious to see me puking my guts out.
Arrivée à Perth ver 7 h. 30, passés la douane sans problèm. Customs guy did ask a bunch of questions, probably because I'm not employed. Wasn't Cairns like that? Pris un taxi pour $13, partagé avec 2 autres mecs. Easy to talk to people again.
Arrivée au backpakers et dormi toute la journée!!
Vers 19 h., sorti se promener sur Williams street et le Mall. Perth has the same feeling as downtown Vancouver and Kitsalano in summer (although only spring here). Mangé chinois pour $17, pas trop de goût. Au lit vers 22 h. 30 - 10 h.
1997-11-14 Tour of Perth (testing bicycles)



Bonne douche, petit déjeuner de céréales et yoghurt. Et shopping. Office du tourisme, épinard pie, milk shakes, vélos, shorts, lunettes, linge, sandlaes. Bière sur une terrasse, Brass Monkey, avec de drôles de firtes et une sweat chili sauce. Souper au backpakers de spagettis tomates et champignons. Soirée lecture et écriture.

1997-11-17 Day at the backpackers'
This hostel (the Shiralee Backbackers) is about 3/4 Brits and 1/4 Germans. Ch. says there are a couple of Swiss from Geneva (1 mec), but I haven't seen them (him). No other Canadians (?). Our room for a couple has yellow brick walls that Dad might like. Clean except for a few tiny cockroachess. One yohgurt swiped. I'm chatting with some people (Sabina, and a Brit couple) but otherwise I keep to myself. Not like last time (?). Is it due to being married or being older by a few years?
1997-11-18 Trip to Freemantle (by train)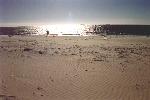 Retourner à Fremantle pour aller à Rottnest Island, louper bateau, alors lunch sur la terrasse du départ bateau. Shopping pour nourriture et retour en train. Erik fait ses téléphones et la lessive. Le jour dávant, on a mangé dans un pub des nacchos et une César Salade avec des anchois dedans, beurk. Retour par la côte en vélo, stop à la plage de North Frematle. Perdu Pin's offert par Carole dans les rochers.

Started solar enquiries yesterday at Energy Museum in Freemantle. Had ch. take pictures of 45Kw + 110Kw steam engies (for compressing gas) and a green 1960 Lister diesel generator set. David Wells might be interested in it. General conclusions steam engines HEAVY. Asked about solar thermal research in W.A. and education officier gave me addresses. Called addresses today and result seems that there is no active research in W.A. on concentrated Solar thermal. They did mention Kaneff. Went to library and found a 1984 report by W.A. Energy Commission mixing further thermal research since it was to complicated for remote places in outback. Might see them downtown and visit Murdoch U. on Friday. Perth has a nice library with free Internet terminals, but no access to telnet or email. Energy Museum had a 40 cm Pelton wheel demonstration.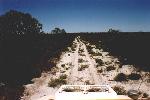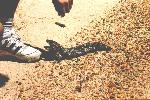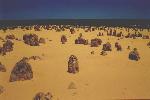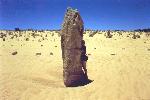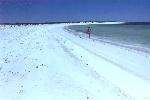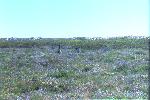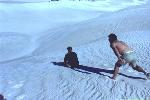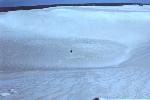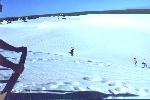 (Writing this entry while on the way to the Wave Rock.)
Yesterday (1997-11-18), went to Pinnacles. Less impressive in reality than brochure Tour, ok. Went sand-sledding, je me suis fait mal au cul après le saut de la fin de la glissade.. Lunch terrible. Place called Ceramites, Wild Flower Store. Rice, pasta and potato salad, lunch meat, dry cakes for $7! No competition = good place for a hotdog stand. Saw ~15 kangaroos and a bobtailed skink (lizard). Met David from San Fransisco. Mechanical engineer doing 4 months in Sydney setting up Internet sites. He mentioned pool hall on James Street as a place to get email. He made the remark that W.A. looks a lot like California. True.
1997-11-19 Tour of Wave Rock (by bus)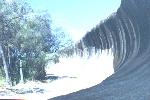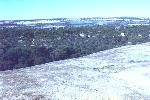 Bus trip a bit boring so far. Ch. asleep. Lunch better than Pinacles. Saw rock, hum. A un arrêt boisson, j'ai acheté un schiken roll et depuis mon estomac est dérangé. Le soir on a mangé dehors pour moi de la viande avec une sauce bolognaise et pour Erik des Lamb shops.
Tech stuff:
given the cost of water in the outback, is water almost as valuable as diesel oil? If so, steam systems must be loss-less.
1984 report mentioned that thermal ponds might still be worthy
possible use for salt-sand: ready-mix base for solar-fused bricks. Problems: uneven (?) salt concentration. Chlorine gas formation.
in wheat-growing area, water is caugth with holes in the ground
if you run out of water, it costs $200 for a 4000 gallon tanker to deliver it.
in W.A. around Perth everyone is on the grid.
can easily order in diesel replacement parts, but not much call.
they've heard of Lister
diesel fuel is $.89/litre in the outback and only $.65 in the city.
electricity connections costed $15,0000 each at the beginning, now only $8,000 for 3-4km from the road.
radio-telephon hookup is $30/month, $3 for 4 hours after 7pm
some people (e.g. schools) have Internet
watertank of 5600 gallons costs $1800 installed
1997-11-20 Trip to Rottnest Island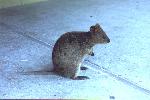 Went to Rottnest Island. Took the bicycles and rode around the island. Good riding with no cars but plenty of wind. Saw and sere annyed by the quokkas. They are exactly like 1/2 meter rats with kangaroo-like legs and faces. They hop very slowly around unless a wierd noise makes them run. We were having a picnic lunch outside the general store and five came to beg. Since they were putting their paws on our knees, we ate sitting on top of the picnic table. There is quokka shit everywhere.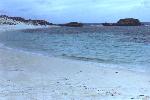 Checked out the nude beach at Parakeet Bay. Only 6 people there (including us) and none nude (except us). Weather stated to cloud over and rain a bit. Ch. felt ill after lunch. La chie vite a commencé.
1997-11-21 Perth -> Fremantle, 40km, 10km/h
Started the bicycle trip for real. Left backpackers at around 10h30. Big bag balances ok, but Ch. has difficulty getting it through doors. Rained like crazy so we stopped 15 min. at library where I checked Internet to see that my site was in order. Went to auto club in downtown Perth and bought 5 maps of W.A. for $3 each. (Found out later that they don't show nice small routes for bikes.)
Then went to W.A. Energy Department to see Joe Wyder. Very enthusiastic guy about solar (in particular solar cooking). Got some energy magazines and brochures. He is supposed to mail me a report on energy in the outback. Mentioned big solar conference in Sidney on Dec. 1-3. Fuck! Gave me addresses and web sites. Result: no concentrator stuff going on in W.A. Decided not to vistit Murdoch U.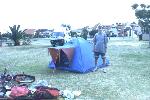 Bicycled to Fremantle along the Swan River mostly. Nice, but often raining and Ch. feeling ill. Windy. Windsurfers. Ate a meatpie in a mini-mall where electricity had failed. No beds in Fremantle because of yacht race and windserfing championships, so we went a bit out of town and camped for the first time. Made mistake of setting up the tent wiht entrance towards the wind. Wind tore up pegs about 3 times! I had difficulty sleeping but not Ch. Ate so-so canelloni and drank a bottle of red wine for W.A. Good grass campsite, but it needs some bushes as breakwinds. Rained at night a bit.
1997-11-22 Fremantle -> Rockingham, 43km, 18km/h
Coast highway has a good margin but too many cars. Some assholes screamed at us while passing. North Rockingham has ugl chemical complexes that cut the beach. After a rest in park, rode slowly to "downtown"and ate nachos and salad at Promenade restaurant. Waited until 18h00 and then went to Rocking ham Hotel/Backpackers. It is an old hotel being restored by one guy as a backpackers. Nice big room with shower. Faucet needs to be fixed. Bar en face made a lot of noise until 23h30. Stayed in and read energy newsletters and Ch. read magazines.
1997-11-23 Rockingham -> Mandurah, 45km, 19km/h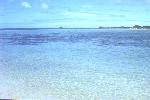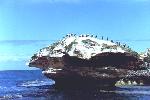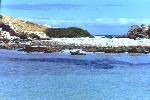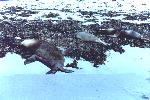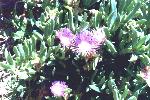 Paid $17 each to visit Seal and Penguin islands. Saw a colony of 20 male sea-lions. Very lazy. Lots of photos. Went to Penguin. Too bad that glass-bottom of the boat didn't show much more that sea-weed.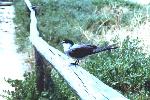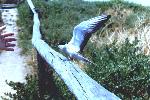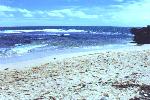 Walked around the island (it is small). Saw terns and lots of dead sea-gulls. Sat on the beach and watched the Indian Ocean. Nice.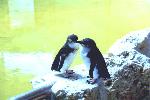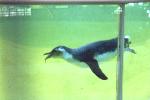 Saw feeding of 6 captive LITTLE penguins. Took pictures for my webpage. Could easily walk back to the mainland on the sand bar, but took the boat. Ate a "penguin burger"and steak sandwich at the tourist center resto.
Rode a new bike trail along the coast through new howsing development (Port Kennedy). Just like 1955-1970 California housing developments (reminded me of "Bachelor in Paradise" with Bob Hope) except more variety and in brick. Howsing prices are $80,000 to $150,000 on average. Rode by nude beach marked with a "Free beach"sign, but didn't try it.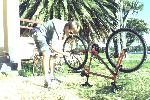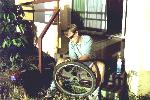 Mandurah is nice and quiet. The rear tire of Ch.'s bicyle went flat while I was looking at the map in front of a bar/hotel. No adjustable wrench! Fuck! Had to stay at the hotel ($70/night double, but nice and great view of the water). Borrowed a wrench and changed the inner tube. Tiny hole and I would expect only a slow leak. Bizarre. Was it caused by the spiked seed balls that Ch. pulled off her front tire in the park? Just like that other guy who wrote a web site? ATe supper in a Greek take-out. Souvalaki (pork) and Yiros (lamb). Saw "Junior" on T.V. with Arnold Schwarznegger. Not bad.
1997-11-24 Mandurah -> Myalup Beach, 89km, 23km/h
Bacon and eggs in Mandurah, developped filem. Pinnacles Desert is no longer yellow, therefore the last film was fucked. Bought an adjustable wrench ($20) and a patch kit. Road on the coast highway (flat) until 14h00 beer stop. Talked to a drunk Australian named "Dave". Road another 6km to a BP stop to have ham and tomato sandwich and a vegiburger. OK.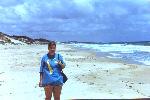 Parts of the highway are dual and some parts have no margin which is stressful. One asshole I've started counting cars who pass us within shouting distance (2 lanes) who DON'T shout. Finished at 100 today. There was a section where every 20m there was a kangaroo (and at least one emu) skeleton. Thinking about mounting a kangaroo skull on my handlebars with an air-horn underneath to blast the assholes. Are there enough assholes here to fill the Albert Hall? Ch. is pissed off with cars. The country is getting greener. Arrived in Myalup Beach around 17h30, bought cream cheese, jam, meat, fruit, juice, etc., saw the long beach and cold water. Cold supper under the stars with mosquitos capable of biting through nylon wind-breakers. Mosquitos were only there from 19h00 to 20h30 and then they were suddenly gone. Bizarre.
1997-11-25 Myalup Beach -> Bunbury, 40km, 19km/h
Temperature OK during the night for once. Just used T-shirt, shorts, and meat bag (and coat in the morning) to sleep. It was raining off-and-on until 11h00, so I told the manager of the camp site that we would stay for one more day and it was fine by him. He said that the weather would be crappy for today. He was wrong. By 11h30 it was clear with 30% puffy white clouds. We had steak burgers (not bad) at the general store, visited the beach a few minutes, and got packed.

Left about 14h00. Didn't have to pay for more than one day. I resumed my statistics of assholes. Result: 188 cars counted (including yesterday) and #168 was an asshole. He shouted something incoherant at us as we were on a stretch of dual-carriageway with no margin. I was glad to get on to a long scenic road into Bunbury beside the Inlet. Saw some tame kangaroos on someone's lawn. Nice and green here. Stopped for coffee and to look for air horn and instant hole-filler, but found niether. Checked into Wander Inn Backpackers at arount 17h00. Nice orange room, $33/night. Went shopping for chicken steaks and cider. Did wash. Supper, chatted with some ozzies. Dodo.
1997-11-26 Bunbury -> Busselton, 75km, 20km/h
Cheese, crackers and jam for breakfast. Bought long pants for me ($50) and hole-filler product for bicycles. Couldn't find air horns, but was told that they cost about $40, so forget it. Counted 200 more cars who passed us on the highway and #198 beeped at us (I assume an insult.) One in 200 seems to be the fraction of asshols. Ever since Perth, we have seen lots of exploded tires on or beside the road and lots of roadkill, mostly kangaroos, rabbits, and birds. Some lizards and the occassional emu. Ho humans (yet).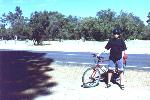 Passed 400km total and took a photo. We are getting sore crotches after about 30km, but a bicycle tour map says that a typical one day tour is between 50 and 70 km. WE HAVE SEEN NO OTHER BICYCLE TOURISTS YET. Apparently the ozzy road system is completely supported by taxes on fuel, so maybe the drivers are pissed-off that we are getting a free ride on their road. I still think that they are assholes. Still drivers on the backroads wave to us, usually because I wave first. We were tired when we arrived in Busselton and it looked like rain tonight or tommorrow morning, so we chickend-out and decided to look for a hostel. The strip of motels on the highway looked too noisy so e blew $50 on a motel in a quiet area. Manager was willing to bargain for a $80( -> $70) villa, but we were too fast in accepting the room. Supper of pizza (takeout) and cider. Watching T.V., but no Simpsons. T.V. talkinga bout changing Oz to a republic.
1997-11-27 Busselton -> Margret River, 68km, 18km/h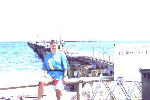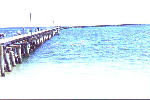 Cream cheese, crackers, jam, yoghurt, and peaches for breakfast. Tea and juice too. Visited longest wooden pier in Oz (2km) but didn't walk on it. Costed money and we had cycling to do. Bought puncture-proofing product for bicycle tires yesterday and spent about 1 hour getting it into the tires at a gas station. Several problems: valve core remover had a knurl, but the cores were too tight to twist by hand, so we needed pliers. Unfortunately, the station didn't have any! (misplaced) In the end, we used the chain-removing vice on the jack-knife to nold the core remover. Luckily all each core needed was a 1/4 turn twist to become unstuck. Then had to squirt the green goop into the tires. It seems to have kevvlar fibres in it that form balls that clog up the valve (as well as punctures). Squirted about 50g on the ground when I squeezed hard to force the fluid. Resorted to the toothpick on the knife anda popsicle stick that I found on the ground. I was a bit afraid of damaging the valve, but things seem to hold thus far. Had lunch and coffee after repairs and left about 13h00.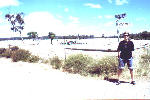 Backroad is fairly green cattle country with big trees first, then becomes dry like California, then gets hilly and quite green (about 30km) like the avant-plateau suisse. Almost 90% of trucks and cars will wave back to you and a few even wave first! We saw and photgraphed a bobtailed skink (but a diffeent color than the blue-tonge) just before the 4km of highway before Margret River. That bit is stressful and we are beginning to feel our thighs from the ups and downs. We decided to camp because the wather seemed fine and we planned to stay a few days in M.R. Plus Busselton was expensive. Set up camp and walded to town to eat and stock up for breakfast. Bought more crackers and cream cheese, a bottle of M.R. wine ($14! expensive!) and ate at a BYO (Bring Your Own booze) across the street. Extremely good nachos with a mango salsa (better than Airly Beach!), calimar (cood as Greece) and a green salad with a flower on top. Ch. put the flower in her hair. I was somewhat pissed and I made the mistake of trying to clean an oil spt on my new safari pants with a red paper napkin and water Result: I now have to tell people that that pink spot is where the crocodile bit me. Fuck!!! It rained during the night and our tent entrance flap collapsed under about 2 litres of collected water and soaked my face throung the door. Next time, close all the zippers. Weather was fine by morning.
1997-11-28 Visiting Prevelly (the beach) by bus.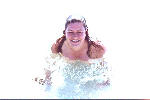 Crackers, cheese, jam, yoghurt, melon, juice for breakfast. Tried washing red spot on pants with spot removver and hand soap, but only got rid of 2/3 of color. Fuck. Road to town for coffee, visited tourist center and found out that the short-cut south is now paved. Cool. Considering a bus trip ($5) to Augusta. Bought lubricant spray, washed bicycles with water (low pressure works) and protected parts that were rusting. Took bus to beach ($3 each, return). Wlaked a bit and got naked. Swam twice and sun-athed. Took a Corfu-style photo of Ch. Yum! Ate lunch at P. (nachos so-so and chicken salad for Ch.). Took bus back (apssed a vineyard) to town and retrieved photos, went for coffee and shopped for breakfast. Showered on returning. The sand really sticks to one's skin.
1997-11-29 Margret River -> Karri Valley Resort, 130 km, 21km/h (most we ever did in one day)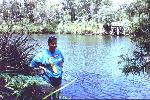 Started at about 10h30, coffee in M.R. Nice flat countryside, almost all drivers wave, (taking backroads, of course). Pass a couple of vineyards, mostly flat, no grapes yet. Started to get hills after about 40km. First stretch of gravel road about 4.5km long. Not too bad, but a bit bumpy sometimes, due to rain erosion. Stopped for a photo on the road. Stopped for lunch of crackers at Alexandra Bridge camp ground. This was NOT a town. In fact, there was a small general store where we bought some chocolate and granola bars and some orange jice and then NOTHING for the next 90km!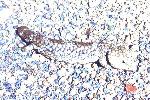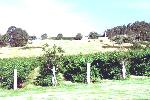 Flat for a long while on the Cockburn highway (good name) and then hills for the next 40km on Stewart Rd until the resort. We passed 500km, 600km, and our old long distance record, but we were damn tired. Stopped for a break at the Donnelly vineyards, but the wine store was closed. We say 3 squashed snakes on Stewart Rd. Saw some freshly squashed kangaroos that smell like shit. Ch. saw salamanders (?) on the road and some lizards like skinks, but with long tails.
We are hearing an animal that sounds like a monkey in the karri forests, but we haven't seen it yet. Saw one live kang. by the road and three at our campsite after 20h00. They like to eat grass under the street lamps. This resort is expensive, but they claimed that every room was booked. Camp site was mostly deserted and we set up between a couple of beers. Watched the stars untill 20h30 and walked to dinner at the resort's clip joint. $57 for kangaroo satay and leek soup entrées and pumpkin gnocchi and a demi-bottle of Hardy's champagne from S.A. followed by two hot chocolates (with very little chocolate in them). Nice view of artificial lake. Tired as hell, we went to sleep. Cold.
1997-11-30 Karri Valley Resort -> Pemberton, 28km, 17km/h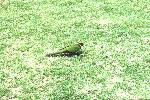 Buffet breakfast $17 each. English and European. Seen plenty of green parrots, but haven't taken a photo yet. Got permission to stay the afternoon and slept and read under the trees on the grass. Finally got going around 15h00. Plenty of up and down, but not as bad as before. Perhaps not doing about 70km before the hills made it easier. Chcked in at Pemberton (a forestry town) backpckers. Got a room with a bunkbed, but OK otherwise. Went shopping and stopped for a beer in the pub. Met a guy at the bar who is constructing rammed-earth houses and raising trees.
A real greeny-anti-capitalist. Tried explaining the libertarian view of things, but he didn't but it. He still thinks that government=capitalism and socialism=good. He explained how farmland in high rainfall regions is relatively valuable. Pissed-off by Ozzy government's desire to increase greenhouse emissions, but still accepts subsidies for using diesel fuel. I didn't bother pointing out the hypocrisy. Still, it was a nice chat. Made so-so mushroom tortellini for supper and chatted with a Dutch woman (touring by bus), a German (about 40 years old) touring by bicycle, and a Brit touring by Harley. Brit was nice and was going to lend me a hex key to tighten the bagage carriers (which have come loose), but he didn't have the right size. Explained the psychology of rival motorcycle clubs and was quick to admit that it was sometimes rather stupid.
1997-12-01 Permberton -> Shannon Park campground, 75km, 18.7km/h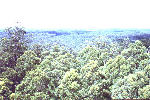 Got up fairly early to go visit the Glochester (sp?) Tree. This is a tree 61m tall with a fire lookout platform (2 stages) on top. You climb it using metal bars that are driven into the tree in a slow spiral around it. I counted about 147 steps to the very top. Nice view and Ch. took some photos. Rode to Northcliffe for lunch. (Sheppard's pie, sausage role, and spinach and ricotta pie, cider and beer). Petit bled.
Arrived at Shannon around 4pm. Grazing land, jarrah trees, and hilly forrest along the way. Getting tired of hills. There are toilets, free water, and wa wood-heated shower (which we didn't use), but no caretaker or store. $8 for the site that you put in an envelope ans slide into a strong-box. Supper of crisp bread cheese and salami. A couple of enormous black birds with yellow eyes hopped up on the table looking for a handout. We gave them nothing and after about 5 minutes they went back to looking for bugs. The had exactly the same behavior as the quokkas on Rottnest Island. Arount 19h30 we finished supper and went for a walk to the lodge to search for booze, but it was just a refuge that you could rent. Saw about 4 kangaroos in the field and an enormous one (before supper) eating the leaves off of a tree. Chatted a bit with the couple next to our site. A Suisse-toto and his wife from St. Legier (!) who went to the CESSEV a year after Ch.! They were flying around Oz and using rented cars, but we guessed that they were rich. Talked mostly in French and I didn't have to repeat myself once! Night was very cold and I didn't sleep a wink, even though I used the towel to cover myself and we slept in spoon position. Glad to get up and get going.
1997-12-02 Shannon Park campground -> Walpole, 72km, 18km/h
Got up early and got going. Swiss couple left before us, but they pulled up in their car to say good-bye. Ch. lost the coin-toss and had to carry the black back-pack. More hills, more grazing. Smelled and saw smoke, but didn't see fire. Everywhere in W.A. you see billboards with a kind of dial on it indicating the degree of wild-fire danger. The last 20km before Walpole are murder! The wind is cold and wet and the slopes are long and steep. Finally stopped in a pub at the outskirts of "town" and I got pretty tips from just on glass of beer. Had fish and chips and a steakburger for lunch and finally checked in to our backpackers' around 16h00. Ch. did the wash and I read my book (XXieme siecle, by Max Gallo). We had a siesta until 20h30 and when we went out for supper, everything was closed! Finally we went back to the same bar as before and had chicken with mushroom gravy (re-heated) in their dining room. Cheap though. Slept OK in the twin beds, but I woke up around 6h00 from the noise of rain on the roof and ran for the clothes that were drying outside.
1997-12-03 Rainy day in Walpole

Gray and raining a bit today. Shopped for breakfast and supper. Bought some powdered milk to try out. Read newspaper and did journal until early afternoon. Did the last three days. Ate lunch in the "best restaurant in town". Nice bright decore, but not really good food. Went for a walk to Coalmine Beach. Windy and gray. A bit like the Sunshine Coast of B.C. Came back for sieste. Supper was pretty bad because I bought a 400ml container of peanut saty sauce thinking that it was marinated meat. Carrots satay avec du riz à la Suisse-Canadien. Beurk! Met three Americans; Michael, Alison and Jason. M. and A. had liberal arts educations and J. was business. Did my usual libertarian tirade and didn't convince anyone, M. bing most "lberal" and A. being most concerned about the "disadvantaged". J. somewhat resigned. Asked M. that if he ever has some influence in Africa, that he try to convince people to put a "none of the above" box on the ballots. Ch. and I played chibre to see who carries the black pack tomorrow. Ch. lost. (Chier!)
1997-12-04 Walpole -> Denmark, 88km, 18.4km/h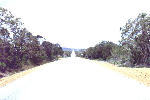 Left the backpackers' around 10h15, same time as A. and J. Grazing land and easy hills, but Ch. sweating hard. Doesn't complain, though. A. and J. went to the Valley of the Giants and passed us again while we had lunch at a gas station/general store. Waved. Arrived at the outskirts of Denmark around 3pm Had a beer in the nice new Denmark Tavern and chatted with the waitress about Niel Young. Waitress remembered American couple (girl with glasses, guy slightly bald) passing through one hour before for lunch. Went to town to telecenter and found that Americans had been there too! Picked up email by changin parameters in Netscape Gold and was done in about 15 minutes. Letter from Dad informing me of post-office strike, but nothing else. Went to holiday park recommended by the tourist office, 4km out of town. Ch. a bit cranky about hills now. Big mistake not to read Lonely Planet first. Place is cabins of two types: nice, new brick ones at $70 pre night, and badly built old metal and wood ones for $10 per person per night. (The asshole originally wanted $15 per person per night!) Real shit-boxes. Evidence that they haven't been used for about 7 years! Probably will straighten out the tourist office. Manager seemed sort of surprised to see a couple of backpackers. Deumped stuff in room and rode along Inlet Drive back to town to eat chinese food. Not bad with a bottle of red wine. Around 8pm when we started back and almost no light. Last bit was a 200m walk through forest and damn near impossible to see. I was a bit scared of wandering into a spider nest or fucking the bikes. Got back safely and played chibre to see who carries pack. Ch. won 7 to 6 but just on the last game. Just as well. Slept on the double bed using our camp mattresses and inflatable pillos because the bed looked crad. Slept OK even though no heat.
1997-12-05 Denmark -> Albany, 67km, 21km/h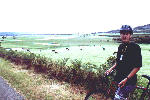 Left about 10h00, went to the tourist bureau to complain about the "backpackers'" and it turned out that the guy (a volonteer) shouldn't have recommended the place. Too bad. Wrote a letter home in the local library, but didn't email it because place was closed for lunch. Finally left around 12h00. Rained off and on for next hour. People must have thought we were crazy. Nice, fairly flat countryside. In middle of afternoon started listening to radio (classical and top 40) with headphones. Speakers were not powerful enough. Reception kind of bad in some places, but music helped me pedal. Stopped in a gas station for a drink and chatted with the Dutch owner (Albert) for a while. Imigrated 15 years ago with no problem, but knows that things have changed. Arrived in Albany about 17h30 at Albany Backpackers'. Cool place, nice murals, friendly managers. Met Danny the Guatemalan biker again. Got pizza, watched video (Broken Arrow) and signed up for a tour on his advice. Had free chocolate cake and coffee while listening to announcements. Chatted from 20h00 to 23h00 with Nigel about the meaning of life, etc. Reminds me of Christos Alexandrou.
1997-12-06 Albany, tour in 4WD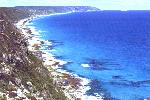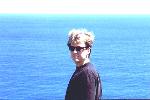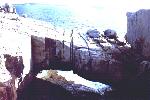 Went shopping for earphone protectors (found them), small radio for Ch. (not found) and emergency blankets (found). Saw a parade of military cadets while having coffee on York Street. Server is down, so no email until Monday at least. Pasta and free beer for lunch. Went on 4WD tour around Albany area with 3 roomates (Brits), Nigel, and another girl. Driver (Baz) kind of crazy. Lots of "chickens". (Bazian for "duck!") Nice views, went to beach for a good swim. Saw "natural bridge" after "forcing" Baz to take us there. The British girls saw a horse with an enormous erection and damn-near died of the giggles. One of the girls claimed that she was going to see about becoming a jockey. Worth the $10/each. Chocolate cake and coffee again. Pizza for supper. Played chibre and Ch. lost in overtime. Thinking about going by boat to Bremer Bay with the bikes if we can manage it.
Les routes depuis Walpole sont blanches et plus noires. On a vu des kangaroos, mais trop loin pour des photos. Il y a aussi eu un cheval... On a aussi vu le Père Noël au bord de la plage.
1997-12-07 Albany -> Wellstead, 115km, 21km/h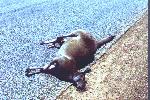 Phoned and found that we couldn't hitch a ride on a boat from Albany to Bremer Bay, so we decided to leave. Said goodbye to Nigel and exchanged cards. Found that his bike had a flat rear tire and my bike had a bent reflector. Accident or sabotage? Nice rolling countryside around A., making good time and was overtaken by Baz with a bus-load of customers. I wonder if he told them any stories? Tok a picture on a bridge crossing a river with road trains roaring past us. Photographed a newly-dead kangaraoo for the website. Had lunch in the primary school yard of Many Peaks since the service station was closed on Sundays. Chatted with a (kind of crad) farmer that we met on the road after lunch. He thought W.A. should get more into solar and young people should get more involved in local politics. Started pedaling into the wind around 15h00.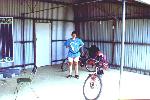 Arrived in Wellstead a tiny bit before 18h00. Sprinted the last 2km because the general store had a sign on the highway saying that it closed at 18h00 on Sundays. Glad we got there in time because people were very sympathetic and offered us the use of the toilet and showers in the community hall! We ended up pitching our tent under the shelter facing the tennis courts. Tested out our new emergency blankets and found that they work superbly except for the creinkling noise that they make when one moves. It is necessay to tuck yourself in to ensure no leaks of warm air, or the effect is very much reduced. Was a bit cold around 4h00, but it could be just my usual sleeping habit. Ch. snored as always.
1997-12-08 Wellstead -> Bremer Bay, 88km, 19km/h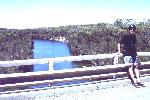 Boring and flat ride today. Wind in our faces just agravated the problem.

Erik a cru avoir vu un rinocéros, moi, j'ai vu une girafe.

I am certain that the bicycle computer was not properly adjusted and that the bicycle tire diameter was inputted 10% larger than it really is. When I fix it, all of our data will disappear, so we must remember to record our statistics. Finally got to B.B. and stayed at the B.B. Hotel and had supper (lamb roads) in their resto. Ca va. $70 for the room, but Ch. managed to get a $29 discount by showing that here name is Bremer. We should try that trick in Rossens (near Fribourg). Lady manager was nice and gave us phone number of dive master to contact:

Craig Lebens
Lebens Diving Services
11 Gnombup Terrace
Bremer Bay, W.A. 8338
Phone/Fax (098) 374 440

Phoned and made an appointment for 10h30 the next day at his dive shop

Téléphoné à Mami, $33.
1997-12-09 Bremer Bay, beach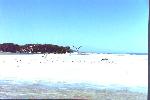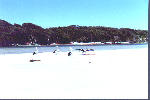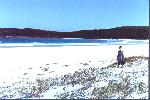 Breakfast in our room, kind of expensive for what it was, but OK. Checked out and went to meeting with Craig. He propposed a short and a long refresher course and we took the long ($95) because Ch. calculated that it would be cheaper than doing an equivalent amount of underwater touring. Smart girl. Went and checked into a fairly nice cabin, $40 per night. Girl manager remembered how her mother told he 2 years ago about another Bremer coming and staying there. Went shopping for 4 days of food and made sandwichs for lunch. Walked to beach and sand dunes via the estuary. Went body-surfing naked and sun bathing in the dunes. Back for a supper of spaghetti lemon (with orange juice) and box of wine. Ch. reading dive manual (fast!) while I write this journal.
1997-12-10 Bremer Bay, first day of diving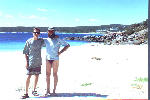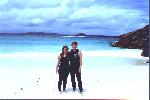 Woke up early to read dive manual and make pancakes. Rode bikes to dive shop and was a bet disappointed to learn that we were not going to save the price of renting the suits. $290 for 2x full refresher course with suits. Difficulty fitting into suits (as usual). Drove to Little Boat Harbour. Craig seems to be an American draft dodger/ex-farmer. Says B.B. has changed a lot in the last few years. First exercises (regulator retrieval and mask clearing) went OK. Saw sea dragons, big grouper, lost of colorful fish, better than Barrier Reef. Second dive good, too. Saw 1m sting-ray for the second time. G. says it and its 2m mother are regulars. Sponges and sea grass. Exercises of mask eplacement and octopus sharing OK, too. Took photo of Craig for Internet site and promised to email address to his kids. Will be diving earlier tomorrow, different location. Talked politics with C., kind of resigned. Had BBQ with water drillers (birds) staying en-face. Wrote postcards home.
Bremer Bay was named in 1848 by the Surveyor General, John Septimus Roe, in honour of Sir James Gordon Bremeer, captain of the Tamar.
1997-12-11 Bremer Bay, rest, email
Sky cloudy in the morning, Craig came by to say that eastern swell was too big to go diving at Strean Beach (?) or Short Beach (?). Just as well because my shoulders were sore. Cancelled until next day. Stayed for a tea and achat. Went back to sleep until 11h00, then pre-wrote the emails. Made package to send home including shirts and unused papers. Went shopping, mailed package (2.3kg, airmail, $38), wrote email at telecenter in library. Came back, had pumpkin soup, relaxed, watched the Simpsons, lemon spaghetti for supper, dodo.
1997-12-12 Bremer Bay, second dive
C. picked us up at 8h00, saying swell gone. OK for me. More surf on the beach this time. Work with compasses and showed us purpose of bezel. Plenty of colorful sponges and still a lot of surge. Trick is to anchour oneself when surge is against you and drift when it is going in the correct direction. On second dive, Ch. had a problem with her ear and we had to go up after "only" 45 minutes. Saw a cat shark, blow-fish, and a big grey fish. Chatted with C. some more about local economics and politics and said good-bye. He have me email address of his sone, Beau Lebens (Deception@trustme.com, possibly trust-me.com). Told him that I would email him address of website. (Two years later...) Went shopping for food for bike trip, supper at the pub.
1997-12-13 Bremer Bay -> Jerramungup, 98km, 20.7km/h
Reset computer: Original values: AVS:19.0 MXS:46.0 ODO:1183.1 DST:88.66 TM:4.39. 15 CIRC: 226, reset CIRC to 208.
Pancakes for breakfast were fucked. I miss teflon pans. Wind slightly against us on leaving B.B., but after lunch, it was at our backs the whole way. Amazing how it reduces the effort of pedaling. Long ride, mostly flat except for occasional ridges (from old rivers?) at least 20km/h all the way. Ch. says that computer agrees almost exactly with 5km bournes on the highway. Good. Arrived about 17h00 and asked in gas station and pub about buses. People not sure, but think bus is on Monday and one buys tickets at the Shire office. I think we will continue to Ravensthorpe. Got a twin in motel for only $15, but bar-girl not sure if that is right price. Hope we don't get screwed later. Supper in the pub. Played chibre and Ch. lost badly. Dodo. Found a porno mag in the WC.
1997-12-14 Jerramungup -> Ravensthorpe, 115km, 17km/h
Ate not breakfast in motel and hit the road. Plenty of up and down, but getting used to it. Supper in hotel. Cheap buffet.
1997-12-15 Ravensthorpe -> Esperance (by bus)
Went simming at the community pool in the afternoon while wating for the bus. They have a stupid system where only residents can buy keys, but we were let in anyway for $2 each. Telecenter closed for few weeks. Bus cost total was $52 including $8 each for the bikes. Bus over-crowded due to Xmas rush and I sat on the step for an hour and chatted occassionally with the driver. Perspective from bus: not much different than bicycle: it just goes by faster. When we reassembled bikes in E., found that front breaks of Ch.'s bike were rubbing. To fix. Settled into 6 person dorm of Esperance Backpackers'. One of our roommates was a French girl named Maggie. She was travelling in Oz after breaking up with her Oz boyfriend in Darwin. Fun to talk French again. Kitchen small so we went to Chinese resto and had a big feed and took rest home in doggie bags. Hermann (the German bicyclist from Pemberton) is at this hostel!
1997-12-16 Day in Esperance
Did shopping for next few days and discovered no place for bicycles on Greyhound buses until Jan 1st!!! Fuck!!! So phone and booked for the train ~$770 not including bus to Kalgoorlie. (By Greyhound would habe been $500). So we put ads at the YHA + backpackers to have a lift to Adelaïde. Had lunch at the mall, pasta + chicken - fried something + patatoes in cream. Supper, apéro cidre + left over chinese food + 7,5 dl de rouge! Lecture.
1997-12-17 Visit to Twilight Bay - 15 km/h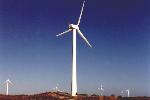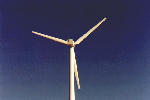 Le matin, on a fait du shopping et email, Katrin, Kathy, Dimitri et les mecs d'Erik. Rode bicycles to beach in afternoon, stopping at Salmon Bay, windmill research station (8 mills) to take photos. Le soir souper de smash patatoes, corn et meat + 4 litres of red! Chat with an old OZ guy + des Bernois.
1997-12-18 Tour to Ten Mile Lagoon beach, 37 km, 18 km/h


Prolongation de billet d'avions = 1998-02-11. Ten Mile Lagoon Beach. Pas mal, l'octopus et le shark m'ont dit bonjour! Body surfing. Eau turquoise. Lunch dún poulet et bière + cidre. Vu les autres windmills ~16 de 31 m. de haut. Vu 2 émus + 2 autres (ou les mêmes?) traverser la route. Vu Pink Lake qui est gris. Souper de spaghettis al lemon + 4 litres de rouge! Et notre lift, Dirk est arrivé? Allemand, lunettes rondes, moustaches. Film James Bond 007, Golden eye. Au lit.

1997-12-19 Last day in Esperance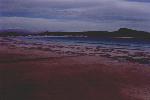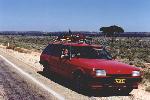 Acheter porte-bagages $30. Annulation des billets de bus et train. Shopping pour le voyage. Ecrit cartes postales, poste et Parc Le Grand avec Dirk. Lucky Bay, pieds dans l'eau. Souper du reste de pâtes, soupe + 4 litres de vin rouge! Rencontré des B.C. Victoria. Film de 5e élément.

1997-12-20 Esperance -> Cocklebiddy - 650 km - 120 km/h...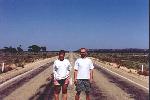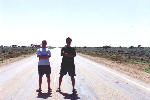 Installé les vélos avec 4 buggies et une sangle. Reçu $10 en retour de la clef. Dîner à Norseman dún pique-nique. Erik a conduit. Ensuite Dirk a fait les 146.6. km de ligne droite, bout le plus long dÁustralie. Souper de steaks burgers, frites et bière. On a vu la Southern Cross, dormi sous tente. Vu 2 cyclistes fous.

1997-12-21 Cocklebiddy -> Ceduna - 768 km - 300 km/h...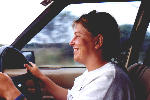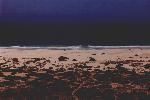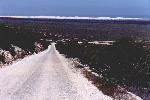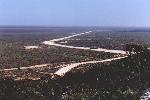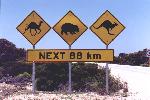 J'ai conduit, on a vu un ému et des kangoroos, la mer avec maison où la cheminée dépasse du sable. Dîner de légumes et fruits. Renson: fruit fly control (?). Le jour d'avant, on a vu des aigles súenvoler de la route. Passer la frontière, vu les quelques km sans arbre. Dormi dans une cabine, souper dans un resto-route.
1997-12-22 Ceduna -> Adelaide, Gelnelg - 777 km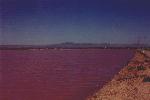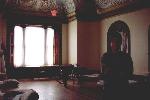 Revu des émus, 5x le même village avec chemin de fer et cilos. La voiture pétarade. Vu beaucoup de Pink Lakes entre Port Augusta et Adelaide. Dîner à la moitié-au milieu de l'Australie. Stop à Port Augusta. Glenelg, vent assez froid. Avancé montre de 2h.30. Dormi dans la salle de balle, souper en ville de poisson et stuffed chicken.
1997-12-23 Tour of Adelaide (by tram)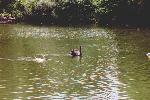 Downtown en tram. Post office, 3 lettres, (Mimi, Brigitte, Mami, email de Katrin, Tania, Rossens'. Shopping. Boucles d'oreilles, bout de bois pour Katrin. Pas trouvé ceinture pour Erik, malgré les millions de magasins passés. Le voyage en voiture nous a coûté ~$278 ./. 3 = $90! Dîner indien, bière à $2 dans un bar. Souper BBQ devant le Backpackers pour $5. Pas fait de connaissance. Acheté 4 litres de rouge. Redormi dans le ballroom.

1997-12-24 Glenelg, Supper at Mexican Resto with Dirk + Jill
1 hour on the beach in front of the backpackers'. Hot and sandy. Sand cleaned by a tractor. Moved from ballroom to a double with its own balcony (lots of bird shit, and facing the back, but our own balcony!). Back to the beach, swam finally. Water ab it dirty with sand and bits of seaweed, kind of green like in Vancouver. Moved to grass so we didn't get messed up. I like grass beaches better than sand, I think. Re-met the swiss-german girls for Experance. They were doing a party all together, but we didn't push too hard to get invited. Love in the afternoon, followed by shopping for the next few days. Saw Jill alone on the grass and invited her to join us for supper. (British policewoman.) We decided on Mexican place so that Dirk could finally try nachos. In total we shared 2 mararitas and 2.5l of sangria plus nachos (only fair), potato skins, cheese/salsa, guacamole and tones of chips. Jill sead that she didn't taste alcohol in sangria and therefore liked it. Dirk thought nachos were OK.
1997-12-25 Glenelg, Christmas diner + walk
Stayed in room and read until supper at 14h00. I felt a bit ill from previous night. Ch. slept. Xmas dinner showed signs of being roganised at the last minute, i.e. too many peple, too few chairs. Meat was good but heated only to room temperature. Plenty left over. Had leftovers with canned tomato soup for supper at 21h00.
... Promenade vers Pier, nager. Tél. Clarens
1997-12-26 Tour to Barossa Valley (by car)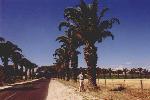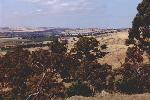 Downtown en tram. Contrôle ouverture des magasins, postes, etc. Promenade dans le jardin botanique, swans et le long de la rivière. Dîner McDonald. Rencontré Craig et Dirk. Tour en voiture dans la Barossa Valley. Revu le grand cheval avec Solange. Pas de tour dans les vignobles, mais goûté au vin blanc Peter Lehmann. Avant goût des collines autour d'Adelaïde. Souper de spaghettis et tomates + 4 litres de rouge... Dormis dans un jdormitory.

1997-12-27 Tour to Maslin Beach, 70 km, 17 km/h
Arrêt dans un Computer Shop, mais le Server email était dérangé. Pour s'échauffer, on a fait 70 km... juste pour voir une plage de nudistes... Beaux culs, belles zizis... Superbes vagues, on est resté dans l'eau au moins 1h. Traversé les collines et beaucoup d'habitations. Vu des Surfers. Retour vers 20h. Souper de spaghettis tomates et 4l. de vin rouge...

1997-12-28 Glenelg -> Mt. Barker, 43 km, 13 km/h
Picked up mail at Poste Restante, mis-filed under "Christiane and Erik". Must tell Katrin! 600m of bloody hills to get out of Adelaide! Nice scenery, though. Felt like fainting at the top. Supper at McDo. Pretty lame. Camped in a caravan park.
... Stop à Adelaide pour des calamars et salades. A Summertown (au sommet), bières et grosse glasse.
1997-12-29 Mt. Barker -> Murray Bridge, 50 km, 18 km/h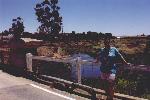 No Internet in Mt. B. Freeway is forbidden to bicycles. I took black bag for second time because the additional hills were depressing Ch. Hills becoming smaller and gentler, but more dry. No Internet in Nairne. Had a swim at Murray Bridge swimming pool, hiding booze in gourds. Ch. nearly got run over following me in town. Scary. Spper of "spuds" because nothing else open. Camped in motel/caravan park. Talked to a 16-year old abo who had just bought whiskey for New Years and was going to bash rascists. Semi-reasonable.
... Dormi avec couverture de sauvetage.

1997-12-30 Murray Bridge -> Walker Flats, 63 km, 20 km/h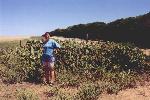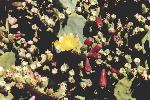 Murray River is hardly 100 m wide. Traversé rivière par un pont ensuite pédalé jusqu'à Mannum, jpris le ferry et dîner de nacchos 4 sauces, rouleaux de printemps et truite à la mangue-banane. Continué la route, il commence à faire très chaud. 10 km de dirt road blanche, Erik a mal aux couilles. Douche sous les princkers dún champ. Pas de camping... Apéro habituel et Dave nous a offert son jardin pour camper. Baignade dans la rivière opaque. Souper de pies et hot-dog. Achat dúne bouteille de champagne au cas où on en trouve pas plus tard. Lynn, la femme a été en Suisse 77-79, Gstaad. Ils nous ont offert une bière chacun. Ils ont 2 fils, Darren et Dick + Tom le chien à la zizi de léopard! Discuté, installé tente et ils nous ont offert une quiche tomates et oeufs et ensuite, le x-mas pudding avec crème, sympa les gens. Le lendemain des fruits. Il y a beaucoup de ski nautique sur la rivière, sauf à Mildura et Boundary Bend. Plus de couverture de sauvetage.
1997-12-31 Walker Flats -> Swan Reach, 32 km, 22 km/h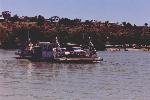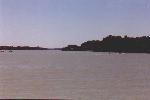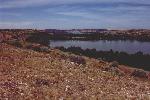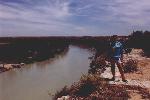 Pris le Ferry pooour traverser la rivière, belle montée ensuite plat tout le long avec des look-outs sur la rivière où il y a des falaises. Dîner de hot-dogs, jeté gourde. Installé campement, ils attendent beaucoup de monde. Nagé très souvent dans la rivière, tellement chaud. Lessive et nettoyage des vélos, 2e dîner avec booze. Retour à la rivière, vu gros bateaux Murray Prioncess, beaucoup de cockatoos et bruyants! Souper gratuit au camping avec Mary, Bryan, Ross, Yvette, Jimmy, etc. 2 bouteilles de champagne, 1 bière maison.
1998-01-01 New Years' hangover...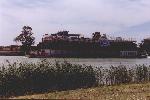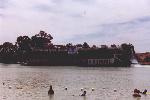 On s'est réveillé et il faisait déjà chaud. Petit déj. dans le take-away. Tél. à Clarens=répondeur. Dormi hors de la tente et ensuite rivière. Dîner à l'hôtel d'un kangoroo steak! Retour rivière. Souper dans l'hôtel de lasagnes. Chaud.

1998-01-02 Swan Reach -> Loxton, 96 km, 22.7 km/h
Levé à 5h45, départ à 7h15, bon frais, bien pédalé, arrivé à 13h, vent dans le dos. Vu ville fantôme = pas de café. Vu un braun ou un tiger serpent endormi ou mort? Il n'a pas réagi avec le caillou lancé sur lui. Bière à 25 km de l'arrivée. Dîner au pub de l'hôtel ($25 la nuit), rôti du jour et calamars. Divers achats de ceinture (enfin trouvée), slip sexy pour Erik, Nicorette pour moi et nourriture avec booze. Vu la rivière, mais baignade dans la piscine. Souper de take-away chinois. On a joué aux cartes et j'ai gagné! Fumé les 2 dernières cigarettes...
1998-01-03 Loxton -> Renmark, 40 km, 22.6 km/h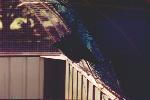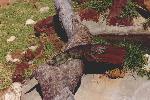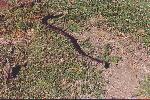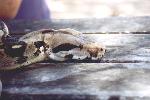 Départ à 7h15. On a vu beaucoup d'orangers et des cultures. On a traversé la rivière à Berni par un pont. Stop à un zoo où on n'a pas vu de koalas et les wonbas dormaient. On a touché un boa constructor et un singe. Dîner de KFC. Mon pneu arrière est à plat... avec 2 piques et Erik a cassé un rayon! Arrêt à l'office du tourisme et au camping. Eté chez un vieux monsieur qui a réparé le vélo d'Erik. Moi shopping et plage. Beaucoup de ski nautique. Souper grec et pizzas au bord de l'eau, on a vu des house-boat.

1998-01-04 Renmark -> Cullulleraine, 86 km, 19.1 km/h - mes 30 ans

Départ à 7h15, mais pneu arrière à plat... Trouvé une station service et bu un café. Traversé rivière par un pont. Arrêt dans un Roadhouse pour caquer. Les gens qui vont en S.A. doivent jeter leurs fruits. Passé la frontière S.A.-Victoria, vu 1 cycliste japonais. Chaud et vent en pleine poire. Arrivé à 14h. Apéro et dîner de steak sandwiches. Baignade dans le lac (même eau que la Murray, mais muddy) et sieste. Retour au bottle shop, champagne et hamburgers... pour célébrer mon anniversaire. Superbe coucher de soleil. Beaucoup de vent pendant la nuit, dérangeant.

1998-01-05 Cullulleraine -> Mildura, 57 km, 18 km/h
Réveil tôt, mais trop fatigué pour se lever=départ à 9h. Vent fort en face, dure journée. Arrêt à Merbein South pour pies et bière/cidre. Lunch avec des dames qui faisaient un pause et qui travaillent avec des champignons. Arrivé à Mildura=librairie avec email gratuit en Victoria, 2 de Carole, 1 Tania, 1 Dimitri. Arrêt apréro, arrêt café et cakes. Shopping. Le sac à booze a pêté en pédalant, heureusement la bouteille de cidre ne sést pas cassée. Arrivé au camping NSW, le vélo est tombé sur les commissions, mes nerfs ont lâché... tjrs pas fumé... Baignade dans la rivière avec sa traversée, algues au bord. Souper d'un poulet et melon. Beau coucher de soleil, dormi en vacances.
1998-01-06 Mildura -> Robinvale, 83 km, 19.3 km/h
Levé tôt, avancé montre de 1/2 h., donc beau lever de soleil. Stop pour un immense capuccino dans le terminal du bus. Parti effectivement à 8h30, pas trop de vent, aux arrêts en tout cas... Beaucoup d'orangeraies, temps couvert et ensuite brousaille jaune et qques arbres. Snakck stop à un parking avec toilettes sèches, lampadaires solaires et eau au goût de citerne. Un immense concoi oversized nous a dépassé (béton ou mine). Stop à Euston, bière/cidre et lasagnes, salade, frites. Ce bout de route est en NSW, retraversé la rivière=Victoria par un pont. Erik a le pneu arrière à plat. Camping cher $18. Douche, sieste. Erik lime le rayon. Souper chinois avec bières 2.7% d'alcool. Il a plus, ragnagna, toujours pas de clope=4 jours. On a vu un pêcher tuer un poisson à coups de baton en le laissant sur place, pourquoi?
1998-01-07 Robinvale -> Boundary Bend, 45 km, 19.2 km/h
Réveil tôt, mais pluie=8h. Yoghurt et abricots, dormi jusqu'à 10h. Erik a lu. Déjeuner dans la village de toasts aux raisins et un truc cochon, crème et pommes, capuccino. Entretemps la tente a séché. Départ vers 12h30 après un achat d'un bungy. Les pneus sont restés gonflés. Le scénario est le même, orangeraies, vignobles et ensuite brouisaille et qques arbres. Arrivés à Boundary Bend où il y a une coupure de courant depuis 9h. La glace est toute molle. Apéro de vodka orange / lime et bière. Douche quand le courant est revenu. Pour changer, nos habituels steak sandwiches et une promenade au bord de la rivière qui fait un beau virage. Plusieurs poissons morts. A-t-on déjà parlé des galahs?
1998-01-08 Boudary Bend -> Swan Hill, 87 km, 18.3 km/h
Parti vers 8h. Haysdale est une ville fantôme donc pas de café. Arrêt à Piangil pour une glace et chocolat (café froid). Et ensuite, dîner de bière (cidre et pizza à Nyah). Et le vent sést mis de la partie, dur, dur les derniers 26 km. A Swah Hill, apéro, librairie, reçu et répondu aux emails d'Olivier et Karin, Rossen, envoyé à Kathy, à Pascal, à Dirk et Christiane Montevon. Apéro et camping. Lessive, douche. Retour en ville à pied, acheté souper de légumes et fruits et booze, mangé à la tente. Tél. à Clarens=répondeur. Pluie pendant la nuit. Cockatoos.
1998-01-09 Swan Hill, pluie
Il a plus quasi toute la journée. Amené vélo d'Erik pour changer le rayon. Café. Coiffeur pour Erik. Librairie. email reçu et envoyé de Katrin, Christiane M., Dirk (pas répondu). Dîner de nacchos avec mangues et beef épicé selon directives d'Erik données au cuistot. Vu le dernier James Bond "Tomorrow never dies". Cherché vélo. Shopping. Souper de pastas, OK et soirée à écrire cartes postales et lettre à Mimi. Il fait toujours gris, mais la pluie à l'air de stopper. Bonne nuit.
1998-01-10 Swan Hill -> Kerang, 57 km, 18.3 km/h
Café au McDonald et Erik a saigné du nez. Vent en face, stop au bord du lac Boga et ensuite au Lake Charm avec glace, mais sans avoir vraiment vu le lac. Radar sur la route, le flic nous a dit fiare du 21 km/h et notre ordinateur a dit 18 km/h! Erik a roulé dans de la boue et 5-10 km avant Kerang, le pneu arrière sést dégonflé. Il lá regonflé sur la route et à Kerang on a eu un apéro de cidre avec dîner de nacchos/salade césar avec bière. Camping, le manager nous a expliqué la raison d'être des carpes. Trop de carpes=ils les tuent et les laissent au bord de l'eau, trop d'arrétes pour les Aussies. Piscine avec un superbe et angoissant tobboggan. Souper de poulet et légumes avec cidre.
1998-01-11 Kerang -> Gunbower, 54 km, 18.8 km/h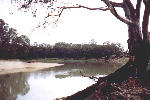 Café et pneu. Et en route, le vent en face, il a diminué, par derrière, par devant et sans vent les derniers 20 km. On traverse beaucoup de ferme à bétail. Stop à Cohuna pour 1 sandwiche et glaces. Arrivé à Gunbower, apéro de cidre et bière avec achat d'un magazine de cul... Dîner de steakburgers et bières au bar. Un Aussie a adressé la parole à Erik et j'en profite pour lui voler une cigarette... Ils nous conseillent la Hume HWY pour traverser les Snowy Mountains. Baignades dans la Taylor Creek (pas sur la carte) où il y a une piscine "artificielle". Vu 2 styles différents de pédalo. Acheté une grande bière et installé la tente. Piscine et souper de la soupe (transportée depuis Espérance) avec crackers, fromage, légumes.

1998-01-12 Gunbower -> Echuca, 40 km, 20.7 km/h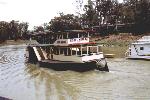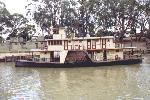 Café dans le take-away. Arrivé assez tôt 10h30. Réservé Internet et mangé des pankakes avec du Mapple syrup et Blackberries avec cidre. Camping immense, installé tente et baignade dans leur piscine. Tour en bateau vapeur pour 1h. Très lent. Traversé la ville à pied et lu message de Katrin=répondu. Orage. Apéro de bière et cidre avec nacchos avec sour cream, salsa et avocado dip (bof) sur un banc vers la bibliothèque. Regardé pour une selle de vélo $22, pas acheté. Souper du petit déjeuner. Rencontré des Australiens, discuté, se sont des fermiers et j'ai volé une cigarette. Un possum a mangé dans notre main. Très chaud et lourd. Orage pendant la nuit.

1998-01-13 Echuca -> Nathalia, 57 km, 19.5 km/h
P'tit déj. de pancakes avec pommes et citron/sucre, café. Gonflé pneu, le mien perd, celui d'Erik est OK. Pas trop de vent contre nous au début. Les deux bleds n'ont pas eu de road-house, donc direct à Nathalia. Erik a denouveau cassé un rayon! Dîner de bière et sandwiches/pies. Eté au comping et piscine, lu roman d'amour. 3 litres de cidre caché dans la gourde. Erik fait réparer son vélo. Souper de pizzas.
1998-01-14 Nathalia, rest day
Went into town to get my spoke fixed. Took about 15 min. to do, but chatted witht he guy for about 1 hour more. Talked about his solar house (second-hand stuff) and reclined bickes. He suggested front-whell drive to reduce friction losses. Warned me that I could expec more spokes to go and suggested that I respoke completely if that happens. Read books in the tent, pasta in town for lunch, pool for rest of afternoon. Many flys. Picnic of paté, cherry tomatoes, strawberries. Supposed to be 40° today, but more like 35°C. We probably would have gone if we knew it would be this temp. At night a possum came sniffing for food at our tent. Scared Ch. by scratching the tent. Hear rumors of a snake that got into a car engine that morning.
1998-01-15 Nathalia -> Yarrawonga, 87 km, 23.5 km/h (our fastest average by bike)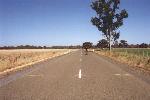 Got up early to avoid sun and had the wind at our backs the whole day, fait du vélo côte à côte! I broke another spoke when we arrived at the campground and Ch. lost her chouchou. following Broken Creek, saw ibises, photographed green and yellow fields. Got ice coffee in Nurmurkah and cappuchino and ice cream in Katamutile where we chatted with a couple of old guys. Yarrawonga t noon, had cheap lunch in bar (E. fad fettucini carbonara, Ch. silver back pork). Library didn't have internet that day, so went to I. café $6/half hour. Wrote to Katrin and partly fixed website (bad links to picture files). Looked for swim clothes and bought sarrong and chouchou and insect bite cream.
Exchanged our books and I got "We the Living" by Ayn Rand. Went swimming for about 1 hour and forgot shorts. Steak sandwiches and booze for supper. Takes 4 min. to wald through huge campground with its own cricket/football oval 8next to Murray river weir).
1998-01-16 Yarrawonga -> Albury, 99 km, 19.3 km/h
Levé tôt. Et par malheur le vent est contre nous. Suivi pendant longtemps le lac avec ses arbres secs au milieu. Stop à Corowa N.S.W. où on a eu un drink coffee avec banane et fraise et un steaksandwich partagé en deux. Eté à la librairie, mais n'ont pas de e-mail. Vu souvent la Murray River, arrivé à Howlong, apéro et dîner de pizzas. Eté se baigner dans la Murray, pas mal, on marche un bout et le courant nous amène plus loin. On s'est baigné avec nos sandales et Erik a cassé sa sangle. Départ vers 15h30 après une glace. Le vent a stoppé, mais il faisait très chaud. "Volé" de l'eau dans un ferme et dans un hòpital où on a pris un douche sous les sprinklers. 2 collines... Arrivé à Albury et arrêt au McDonald pour une coke et un milkshake. Trouvé un backpackers, bof, pour la cuisine et la chambre sans fenêtre et sans air conditionnée ou ventilateur, étouffant. Mangé une salade cajun et des lamb ribs avec du champagne. Fumé 4 clopes avec un disjoncté.
1998-01-17 Albury, shopping
Eté à la librairie pour réserver e-mail, été dans un magasin de vélos pour changer tous les rayons d'Erik. L'e-mail de la librairie ne marche pas. Trouvé une robe en jeans sexy pour moi, mais toujours pas de costume de bains. Repris les vélos et été env. 5 km pour trouver un style de Internet café. Dîner de takes-away chinois. Baignade dans la Murray. Encore plus cool qu'à Howlong, on s'est laissé emporté par le courant au moins 1 km! Malheureusement, quelqu'un nous a volé le linge acheté à Perth vers 17h30, heureusement, ils n'ont rien pris d'autre... Souper mexicain d'avocat et crevettes (bof) et Erik quelque chose pour les débutants (?). 1 clopes. On a eu un ventilateur pour la nuit.
1998-01-18 Albury -> Jingellic, 107 km, 19.1 km/h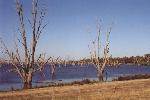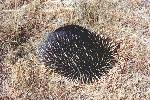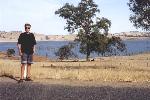 Longé le lac Hume avec son barrage et ses arbres secs. On s'est baigné nu dedans... Vu un Echichna et un monitor (ou guana) qui mangeait un wonba. Stop par hasard dans un B&B, eu une bière, il fait très chauc et on a fait la sieste sur un divan avec superbe vue sur le lac. Baignade à poil dans la rivière, très boueuse, après avoir traversé et descendu le champs desséché. Dîner froid de poulet et salade avec pain fait maison, ainsi que glace maison. Assis sur la véranda jusque vers 16h. 40 degré celcius. Continué route. Autre baignade... Vu beaucoup de wonbats morts au bord de la route. Le seul endroit en fait. Arrivé à Jingellic, 1 resto, 1 épicerie et c'est tout. Apéro, souper de T-bone et Fish-basket. Monté tente et baignade vers 20h à poil toujours dans la rivière. Dernière bière avant d'aller au lit.
1998-01-19 Jingellic -> Khancoban, 70 km, 18.5 km/h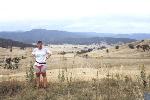 Réveil avec une baignade dans la Murray, stop à Walwa pour une glace et contrôler les pneus. On longe tjrs la Murray River avec baignade dans un "lagoon" où il fallait descendre un champ, on a laissé les vélos en-haut, c'est notre dernière baignade dans la Murray. Dîner à Tintaldra de sandwiches toastés et bières. Une vieille grand-mère nous conseille une route avec 2 petites montées, résultat=5 montées de 100 m. (Heureusement, qu'il fait couvert) et un détour de 15 km... Arrivé à Khancoban, bière, office du tourisme, shopping et backpackers avec TV et frigidaire avec lavabo dans la chambre pour $30. Bâtisse construite pour la construction de la "Murray River Dams". Souper du roast du jour et wiener schnitzel.

1998-01-20 Khancoban -> Thredbo (by bus)

Réveil assez tard, p'tit déj. et écriture du journal. Départ vers 11h pour voir le barrage, ensuite piscine assez vieille en design. Dîner de steaksandwiches et départ en bus avec David pour Thredbo dans mini-bus avec vélos attachés à l'arrière. Belles montées, de 600 à 1600m avec route non goudronnée. Interessant les eucalyptus sur la montagne à vaches. Arrivé à Thredbo, 1300m, le premier backpackers était plein, monté aves les vélos dans le village. TV et frigo avec toilettes dans la chambre. Apéro de nacchos et cidre, on a loupé les Simpson's (17.30 au lieu de 18.00). Pas sorti.

1998-01-21 Thredbo -> Mt. Kosciusko, height 2228 m (hike)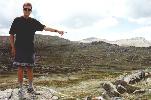 Réveil par des chies-vites, l'eau de la Murray River? Les nacchos? Resté au lit jusqu'à 12h. Acheté pique-nique. Erik a remplacé le boulon de son porte-baggage qui avait cassé el jopur d'avant. Monté en ski-lift et ensuite à pied jusqu'au look-out et vu le Mt Kosciusko, le sommet le plus haut d'Australie. Pique-nique, de grosses et méchantes mouches nous embêtent. Retour au ski-lift (le chemin est "goudronné") et bu un café. Trop faibles pour descendre à pied comme originalement programmé, donc retour en lift. Sieste, Top Models et souper de spagettis bolo.

1998-01-22 Thredbo -> Jindabyne, 39 km, 18.5 km/h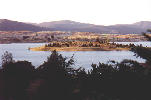 Toujours la chie-vite. Route qui descend avec petites bosses. Ensuite méchantes montées de 200m, failli passé dans les pommes, beaucoup transpiré. Toujours les méchantes mouches. Jolie descente vitesse max 65 et dernière montée avant Jindabyne. Trouvé hôtel, sieste et dîner en chambre, sieste. Shopping et acheté imodium pour la chie-vite, paraît que c'est une grippe qui court... Top Models et les Simpson's. Souper de sphagettis dans l'hôtel avec belle cuisine.

1998-01-23 Jindabyne -> Berridale, 29 km, 17 km/h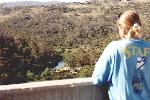 Départ vers 9h. Un peu moins de chie-vite, mas pas convaincant, crampe dans le bide. 3 jolies montées pas trop raide avec des descentes 870m. Arrivé vers 11h dans un motel où la chambre est allongée. Sieste, Top Models, Simpons', fini mon magazine de cul... Souper de soupe et sandwiches poulet / avocat. Film un western. Erik a entendu les voisins faire des choses pas catholiques.

1998-01-24 Berridale -> Cooma, 35 km, 17.3 km/h
Temps gris, parti vers 9h, belles montées. Erik a chié vite avec vue sur le lac. Jolis paysages avec champs jaunes et cailloux, rochers au milieu. e-mail, message de Katrin malade. Hotel $35, avec fenêtre en couleurs et jolie patio, shopping, Elvis Presley, souper d'une omelette et soupe pour Erik. Gros orage.
1998-01-25 Cooma -> Bredbo, 33 km, 19.6 km/h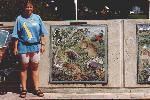 Réveil tard, 8h. Faut pas s'exiter, il fait couvert en partie. Acheté drogue pour notre chie-vite et été à l'office du Tourisme pour un bus pour Canberra, ne veulent pas les vélos, alors pédale, pédale. Arrêt à Bredbo où Erik à le pneu quasi plat, dîner de steack sandwiches et l'orage éclate. Alors arrêt à l'hôtel, sieste pour moi et lecture pour Erik. Toutes les motos s'arrêtent au pub pendant qu'il pleut. Souper de crêpes, cher et pas fameux. Vu les Simpsons', deux épisodes, téléphoné à Clarens = répondeur. Au lit.

1998-01-26 Bredbo -> Canberra, 76 km, 19.3 km/h


Debout tôt pour changeré. Il fait froid, les pieds gêlent et le nez goutte. On s'est arrêté à Micalago pour un café et donut. Belles montées et dernière belle descente avant Canberra. En y arrivant, le vent était violent. Trouvé par hasard un hôtel pour $12 p.p. lit à étage. Dîner au pub où on a grillé nous-même la viande. Sieste, shopping où on a trouvé un Internet café. Souper de pizzas et on est descendu à pied vers le Parlement et le lac pour les feux d'artifices, jolis. Au lit.

1998-01-27 Canberra - Interview with Dr. E.K. Inall
A Erik de causer...
I wrote a brief description of the interview with photographs for the people on the solar-concentrator mailing list.
Ken nous a cherché vers 10h30 et on est allé à l'Uni. Dîner de porc pour moir, sphagettis pour Erik. Retour vers 16h où on a eu un apéro et écris des cartes postales. Souper de lasagnes et bouteille de champagne. Revu des feux d'artifices un peu bruyant chinois. Dessert d'un mud cake, très lourd dans l'Internet café.
1998-01-28 Tour around Canberra, 27 km



On est parti en vélo et on a visité la maison du Parlement. On a emmerdé un gardien avec nos vélos... Entrée de marbre avec une supposition de forêt eucalyptus. Dîner d'un croissant au jambon/fromage, frites et pour Erik un sandwich. Visite rapide de la librairie, le carillon n'a pas sonné. Shopping, acheté nouvelles lunettes, développé film, acheté crème à bronzer et pas pu échanger les livres. Tour dans le jardin botanique avec beaucoup d'eucalyptus.





Et ensuite, montée à la Tour Telstra à vélo pour regarder la vue. Le sol du restaurant tourne et on a eu du kangoroos, Emu, sanglier et buffalo avec une bouteille de champagne. Beau coucher de soleil. On a atteint notre max. vitesse 67 km/h à la descente. Maintenant, on est au café et on écrit des e-mails à Katrin, Mimi, Kathy, Rossen, Wells. Au lit.
1998-01-29 Canberra -> Goulburn, 103 km, 18.7 km/h
On a quitté Canberra sans passe rpar la ville. Arrêt à une poste pour poster les cartes. Pèdalé jusqu'à Wensbeyan sur une piste cyclable où Erik a vu un serpent! Arrêt à Q pour un café. Belles montées, le paysage est brun, même les arbres. Dîner à Bungendore dans une backery avec pies et free coffees avec une tarte à la vanille (?). Le paysage change et devient vert, route assez plate, arrêt àà Tarago pour une bière. On peut se baigner dans une creek, mais l'eau plus que bof, alors glace et on continue jusqu'à Goulburn sans vraiment l'avoir voulu. Passé sur une route en construction, vent de côté. Arrivé à Goulburn, 1ère ville dans le inter-pays, je crois historiquement parlé. Bu apéro et des pièces de poulet avec patates, tomates jaunes et booze, dessert de flan caramel. TV avec chambre au 2e étage.
1998-01-30 Goulburn -> Moss Vale, 80 km, 19.8 km/h
Café à Goulburn, Erik a oublié sa tête... son casque au motel et ensuite ses lunettes au café où on a pu faire du e-mail = Tania. Sont-ils toujours vivants? Ensuite Highway, donc montées pas trop raides, mais longues. Une piste pour nous. Arrêt à Marulan pour un Hungry Jack. Et Highway, jusqu'à ce que Erik en aie marre et nous a fait faire un détour de 17 km qui a valu la peine. Mais son pneu est plus ou moins plat. Arrêt à Wingello pour un jus, ensuite à Penrose pour une glace, on longe le chemin de fer. Et arrêt à Burdanoon pour une bière et piscine. Et redépart pour Moss Vale, trouvé un Caravan Park, souper chinois avec 1l. de rouge. Ville en pente dans une vallée. Nuit assez froide.
1998-01-31 Moss Vale -> Warilla, 56 km, 19.7 km/h
P'tit déj et café à Moss Vale. Route assez en pente avec montées jusqu'à Roberston. Temps gris et champs verts. Dîner de hamburgers avec salade frites, 1 thé gratuit (2e tasse gratuite) radins? Et après, descente de env. 10 km avec dénivelé de 700m. Un de mes rayons a pété! Traversé forêt tropicale, route en lacets. Stop à Albion Park pour une glace et alcool. Et ensuite route pour Shellharbour, mais on a dévillé pour Warilla, car route affreuse, beaucoup de voitures, traffic, etc. Arrivé au camping $8 et été à la mer, vagues pas trop grandes. Souper fish and chips, Erik lasagnes et champagne pour avoir attient la côte est! Dessert de tiramisus.
1998-02-01 Warilla -> Bulli (Bull-eye), 32 km, 17 km/h
Pas vu beaucoup la mer, arrivé (vu un type au camping, nous a averti des requins!) à Wollongong après avoir longé la mer et le lac Illawarna et traversé les industries de métal. Trouvé Internet café, eu un milksake et écrit à Katrin, Tania, Kathy. Dîner de boeuf et pattes pour Erik, café malibu. Eté se baigner à Fairy Meadow après avoir loongé une piste cyclable. Belle vagues avec des bodyguards et beaucoup de monde. Le temps se couvre, agréable. Trouvé camping et souper sur une "falaises"de steakburgers sans alcool... Couché de soleil, vue sur les cheminées de métal et surfers.
1998-02-02 Bulli -> Stanwell Park, 19 km, 15.3 km/h


P'tit déj, discuté avec des Hollondais. Nuit gratuite, car pas eu de monnaie exacte! La route commence à longer les falaises et serpente, hauts et bas. Arrêt à Thinarl pour cappucino et glace, sur une terrasselong arrêt avec regards perdus à l'horizon. Les chiens mendient, les gamins geulent, alors on se bouge quand même. Arrêt Wonbarra pour dîner, take-away fermé, alors apéro de notre gourde sur un banc sur une falaise à Clifton où on a aussi dîner dans un restaurant plongeant sur la mer avec steackburger avec salade et frites et booze. Baignade à Coalcliff où au début, on a eu peur des vagues et on a été dans la piscine salée à même la mer. Ensuite, on a vu un des gens et on s'est baigné comme eux. 1ère fois, beaucoup d'algues, perdu mon chouchou. Beau surfing. Les algues sont parties. Erik s'est écorché le genoux. Douche. Arrivé vers 18h30 à Stanwell Park où on ne peut pas camper! B&B complet! Alors, on a souper de burgers et cidre et on a demandé à Léo si on peut camper dans leur immense parc. Pas d'inconvénient, sauf que c'est contre la loi. Rebu un cidre et un café avec tranches de gateaux, vu un feu dans la montagne, mas pas vu sa trace le lendemain. Camping sauvage dans un parc à BBQ.
1998-02-03 Stanwell Park -> Caringbah, 40 km, 16.6 km/h





Baignade dans la mer avec belles vagues qui nous écrasent parterre ou nous font surfer. Douche, café et montée de 150m, 2 km, assez raide et chaud, mais belle vue et beau vent.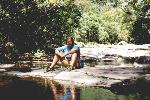 Traversé Royal National Park (Morton Park), belles forêts tropicales avec petite rivière et après une autre montée de 150m (après être descendus gentiment) vu une chute d'eau8 très spectaculaire. Stop à Waterfall où il semble qu'il y a qu'un take-away habituel, mais moins bien fournie que dans le "middle of no where", burgers. Stop à Heathcote pour un plan de Sydney et bière/cidre. Pédaler sur Highway et ensuite avec une chiées de voitures, pas trouvé e-mail, Kathy pas là. Fin du périple, arrivée dans une banlieue de Sydney. A+
Caringbah, Cronulla, and Sydney
The following images come from our week-long stay in Sydney before flying back to Switzerland. Ch. and I had gotten a bit tired of keeping the journal, so anything from now on has been added from memory.

We stayed for 3 or 4 days in a rather expensive, remote campground in the suburb of Cronulla, just south of Sydney. The campground was directly under the path of airplanes landing at Sydney International Airport, so it was often quite noisy. There was a beach nearby with a view of downtown Sydney, but the water was a bit dirty with seaweed and junk floating in it, so we never went for a swim there.


We spent our time bicycling around Cronulla, going to the beach, and visiting Sydney. We tried to hitch up Kathy (a friend of mine from my vacation in Greece) and Mitchell (a friend of Christiane from previous holidays in Australia), but they seemed to be very dense. We all had supper together in the revolving restaurant in downtown Sydney and ate roast kangaroo for the last time. When we questioned them, we discovered that they were both working 50 hours per week, but they didn't see anything wrong with that. Doh!

We weren't too lucky that week in Sydney. It rained most of the time and our tent was blown over during a storm on our last night in Cronulla. Manley Beach is pretty depressing in the rain.



We took the ferry to go to Manley and back.



And we saw the standard tourist views.



We were pretty impressed by the gigantic mutant turtles humping on the pier.


But hey, if you've seen one big, modern city, you've seen them all. Vancouver looks like this too.


Our saddest chore was to say good-bye to our bicycles. They busted our balls, but they got us through in the end. I felt like I was chaining up my faithful dog to a tree and leaving it forever when I left the bikes at Kathy's parents' house. She offered to sell them for us when we left, but so far only one of the bikes has been sold. This is the ad that I placed in the "Trading Post":

Raleigh 1800 bikes, good condition, used for Perth to Sydney journey.
42cm frame, computer, $300.
54cm frame, new tires, wheels, tubes, $250.
rossen@planet.ch
CARINGBAH
02-9523 6857

--

Erik Rossen <rossen@rossen.ch>
OpenPGP key: 2935D0B9
Tel: +41 78 617 72 83
Home URL: http://www.rossen.ch


Copyright © 2000 until the heat-death of the Universe (thanks, Mickey!), by Erik Rossen
Last modified: 2016-02-07T12:43:26+0100

HOME -> PERSONAL STUFF -> AUSTRALIA BIKE TRIP -> ONE HUGE PAGE | SITEMAP