Across Australia on Bicycle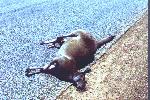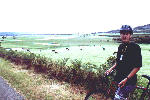 Christiane and I bicycled from Perth to Sydney during three months from November 1997 to February 1998. During this trip we took a bunch of photos and kept a journal that we planned to eventually put online. Eventually is the keyword here - it has taken us almost two years to find the time to get the job done. (In the meantime we have bicycled across Denmark, too.)
The job is still not done, but at least we have transcribed the pages to HTML. We know that there are still lots of spelling errors, so don't feel obliged to send corrections. The journal is written in French (mostly by Christiane) and English (mostly by me, Erik). One of these days we'll translate each others' entries, but for the moment you'll just have to skip if you don't understand something. If you like what you see, send us feedback. Maybe we'll be motivated to finish things up.
This trip was pretty easy, even if the total distance was about 3500km. Anyone in normal physical condition can do an average of 35km/day. We usually did 70km on one day and rested the next. This was necessary since towns were often 70km apart. By a town, I mean someplace where one can buy food and beer.
This would have been a very boring trip if it had been done on a bus or by car, but things are different when bicycling. One sees a lot more detail when one travels slower. Try it sometime.
Scanning photographs is a poor substitute for scanning the films that they come from. Another thing to get fixed, one of these days.
On with the show...
As usual, click on the thumbnail images to see a larger version. The images are JPEGs, typically between 30KB and 60KB in size, but a few are as big as 100KB.
I've provided an ALT attribute for each image, so if you are using a recent browser, just let your pointer rest on top of an image to see a comment pop up. Try this with the images at the top of this page.
One HUGE page or day-by-day
The journal with all of the thumbnail images is pretty big - about 814kB. For this reason, I offer a choice: either download the whole thing at once as one huge page or look at the journal in a page-per-day format. The first option is recommended if you pay by the minute for your time online, and the second option is recommended if you just want to take a quick peek.

If you are in a hurry to find a particular image, you might want to try the image list (714kB).

--

Erik Rossen <rossen@rossen.ch>
OpenPGP key: 2935D0B9
Tel: +41 78 617 72 83
Home URL: http://www.rossen.ch


Copyright © 2000 until the heat-death of the Universe (thanks, Mickey!), by Erik Rossen
Last modified: 2016-02-07T12:43:25+0100

HOME -> PERSONAL STUFF -> AUSTRALIA BIKE TRIP | SITEMAP